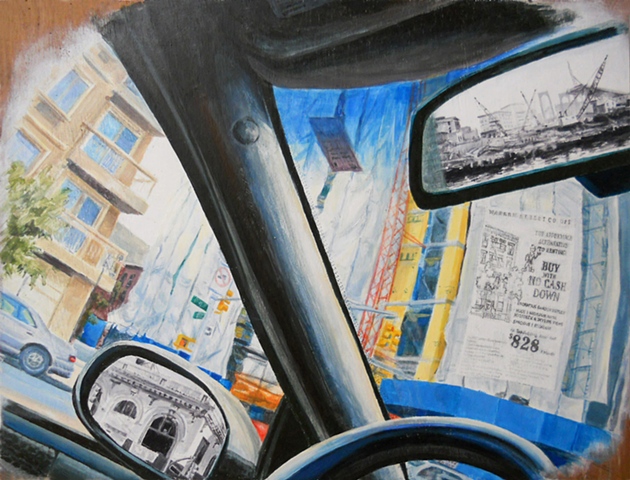 BIO/STATEMENT
Katherine Gressel is a NYC-based independent artist, curator and writer.
Artwork
Katherine is the founder of the award-winning Event Painting by Katherine, traveling worldwide to create live portraits of weddings, bar/bat mitzvahs and other parties, as featured in the New York Times Style Section.
See Katherine's new live event painting website
Katherine's paintings and murals have been exhibited in galleries and alternative spaces across NYC, and she was a 2008 Abbey Mural Fellow at the National Academy of Fine Arts and a 2009 CEC ArtsLink travel grantee to paint murals in Russia.


Curating/Writing
Please visit Katherine's NurtureArt online profile to see complete documentation of past curatorial projects.
Visit brooklynutopias.wordpress.com to learn about "Brooklyn Utopias," her original exhibition and programming series.
View new blog dedicated to public/community art
Visit the writing/curating page for more links to past articles, shows, and press coverage
Katherine's curatorial practice centers around public and site-specific art. Specific topics of interest include the aesthetics of participatory and socially-engaged art, the role of artists in envisioning and shaping notions of utopia and other urban planning topics, and the evaluation of public art.
Katherine has curated group exhibitions in all media, for such organizations as No Longer Empty, the FIGMENT summer-long sculpture program on Governors Island, The NYC Department of Transportation public art program, and the Brooklyn Historical Society, among others.
Katherine has published and presented original research on public art and community art in the critically-acclaimed arts blog createquity.org; the Americans for the Arts Public Art Network blog, annual conference, and webinar series; and the Public Art Dialogue journal.



Recognition
Katherine has received grants from the Puffin Foundation, Brooklyn Arts Council, and the Brooklyn Historical Society. Her curatorial work has been recommended by Hyperallergic, Time Out New York, News 12 Brooklyn, the L Magazine, and DNAInfo, among others.